I wanted to show yall this yesterday but I wasn't feeling 100% Jolly Holly so I figured I would do it today!
This house has a curvy staircase does that make sense? You go up some steps and then a landing to turn and go up the next set! And it echoed really bad!! Everything is amplified so clearly I had to fill it up! I still have a couple more things I want to put but I am looking for a very specific dresser =)
The before picture I have doesn't really show the wall so we will just go with the after! I want to keep adding to it but for now I am happy!
See the wall on the other side, I want to do something there too… Maybe not pictures maybe something like this….
Meet Virginia; Wallpaper gone bad
I love how she took something very simple and made it beautiful! You go with your bad self!
Or something like this I know I could find for cheaper!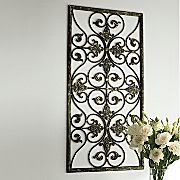 JCPenny (Click the pic)

While looking for something to fill
that
space I found these adorable little things! I could make them too but might just end up buying them for the sake of time because I WANT THEM REALLY BAD RIGHT NOW! hah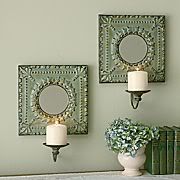 Also JCPenny (if you click the photo it takes you to the beauties)
Over a nice little dresser in the living room with cute little books just like they have and nice fresh flowers! mmm Can you see it?